Foreclosed Home Inspection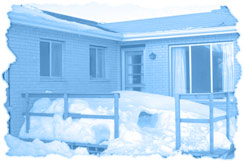 Foreclosed homes are generally sold "as-is" and buyers often ask why they should have an inspection of the foreclosed property. After all, the seller (bank) may not be doing repairs (or even negotiating) for issues that are uncovered during a foreclosed home inspection.
Any (and all) issues with the home are your sole responsibility.
You may have found a great neighborhood, the perfect size and are getting a tremendous discount. But, are you getting a good deal?
A foreclosed home will often start to deteriorate as soon as it becomes vacant. Houses are meant to be lived in; water run, electricity used, windows opened and most importantly, someone being there to fix a small problem before it becomes a big one.
Inspection of foreclosed homes may reveal problems that go unnoticed to the untrained eye. Is there evidence of past water leaks in the attic or crawlspace? Do the outlets all work? How old is the water heater? Furnace? Is there a gas leak?
If you're saving tens of thousands of dollars on a foreclosed house, you should make sure that you won't be spending that same money on repairs after you've bought it.
Some tips for a home inspection:
Attend the inspection -- You can see first hand anything that is found and you have the opportunity to ask as many questions as you want.
Make sure all of the utilities are on and pilot lights lit -- If the gas, water and electricity are not on, you will not have a complete understanding of the property condition. Inspectors do not turn on utilities nor light pilot lights for furnaces or water heaters.
Be realistic -- All homes have issues, even new construction. Foreclosed homes may have more things to be fixed than a lived in and maintained home. Decide what is important to you and communicate that to the home inspector.
Don't hire an inspector based solely on price -- this is true for any inspection, but especially foreclosure inspections. Saving $50 or $100 on inspections fees may end up costing thousands in the long run.