What is a home inspection?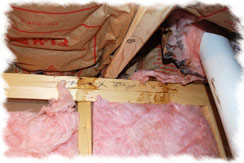 A home inspection is an objective visual examination of the physical structure and systems of a house, from the roof to the foundation.
Why should I pay for a home inspection?
Your home will probably be the biggest investment you've ever made. Homes need constant upkeep. Things go wrong and deteriorate, and some may start out with problems. Many home owners are oblivious to the fact that the home has problems. The disclosure statement from this type of owner may have many shortfalls that could come back to haunt a new owner.
How long does the inspection take?
Our thorough inspections usually take between 2 to 3 1/2 hours, however, it varies based on the size and age of the home. Older homes, homes with crawlspaces, or multiple mechanical systems may take longer.
What does a home inspection include?
We check all mechanical systems of the home, heating and air conditioning, interior plumbing and electrical systems, roof, attic, and visible insulation; walls, ceilings, floors, windows and doors, foundation, basement, and visible structure.
Can a home "fail" the inspection?
No, a professional inspection is simply an examination into the current condition of your prospective real estate purchase. It is not an appraisal or code inspection. An inspector will only describe its condition and indicate major and minor repairs that may be needed.